News and events
2015

Macquarie University is off to The International Genetically Engineered Machine (iGEM) competition, 24 – 28 September 2015 to be held in Boston, USA.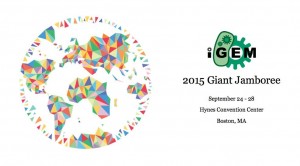 With sponsorship from Macquarie University and NSW Trade and Investment a team of students from the Department of Chemistry and Biomolecular Sciences will compete with the best in the world. The Macquarie University team has a great history of success at this competition.
2014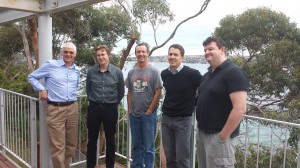 Investigators: Haynes, Prof Paul A (Director); Packer, Prof Nicolle H; Nevalainen, Prof Helena K; Paulsen, Prof Ian T; Willows, A/Prof Robert D; Raftos, Prof David A; Molloy, A/Prof Mark P; Te'o, Dr Valentino S; Atwell, A/Prof Brian J; O'Connor, Dr Wayne A; Quail, Dr Kenneth J; Hobba, Dr Graham D; Ball, Dr Malcolm S.
Organisations: Macquarie University; NSW DPI; Grain Growers; Agritechnology Pty Ltd; Gratuk Technologies Pty Ltd
Project Summary: Society needs new approaches for solving the difficulties of providing enough food for the future. This Training Centre will train young scientists in the application of applying molecular analysis skills to solve specific problems that the food industry faces in the whole process of taking food production from "field to fork".
Photo by Mehdi Mirzaei - Partner Investigators: Ken Quail, Grain Growers; Graham Hobba, Agritechnology; Paul Haynes, Centre Director; Wayne O'connor, NSW DPI; Malcolm Ball, Gratuk.
ARC Centre of Excellence – Centre for Nanoscale BioPhotonics.
Led by University of Adelaide. Macquarie University Node Chief Investigators, Professor Jim Piper, Prof Ewa Goldys, Prof Nicolle Packer and A/ Prof Dayong Jin.
Organisations: University of Adelaide, Macquarie University, RMIT, SAHMRI
The research at the Centre for Nanoscale BioPhotonics is organised in 4 interconnected research themes:
Illuminate – creating novel light sources for interrogating biomolecules
Recognise – creating smart surfaces for photonic structures and nanoparticles
Measure – creating nanophotonic architectures customised to enhance light-matter interactions at the nanoscale for biological measurement
Discover – identifying specific molecular changes for measurement using advanced molecular sensors
And three biologically driven challenges at the forefront of current research
The Spark of Life – measuring embryonic metabolism
Origins of Sensation – the role of immune signals in sensation
Inside Blood Vessels – measuring nitric oxide in functional blood vessels
These challenges have been selected because they pose measurement questions that cannot be addressed with existing technologies. They provide a context in which we can explore and extend the limits of the science, and a pathway for evolving research outcomes within each theme in directions that will enable translation and impact.
2013
Grants for 2013 worth over $12m
In 2013, members of the Biomolecular Frontiers Research Centre were awarded research funding of, $12,021,378 with 94% from ACG funding (an increase from 2012 of 32% from government sources) –comprising 18 grants of which 1 ARC ITTC, 2 ARC Discovery, 2 ARC Linkage, 4 NSW Cancer Institute, 1 NHMRC and 1 from Government, 6% from Industry (5 contracts not including ARC Linkages), 7 % from MQ internal schemes.
Higher Degree Research Students (HDR) supervised by Centre Members
Centre members had 20 Higher Degree Research HDR completions in 2013 and currently supervise 92 HDR students.
Centre Member's Publications
In 2013 Centre members have published a total of 119 peer reviewed publications and patents. Several members published 10 or more papers in 2013 including Paulsen, Packer, Haynes, Hancock and Ranganathan.