Facilities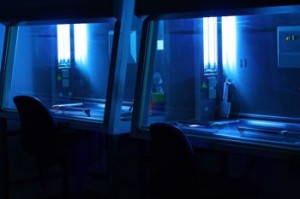 The Biomolecular Frontiers Research Centre has state-of-the-art laboratories and facilities in the fields of proteomics, genomics, glycomics, molecular biology, biochemistry, structural biology and protein production.g
Our team works within a tightly focused, world-class research centre, using the University's resources and infrastructure. The Centre is housed within the Department of Chemistry and Biomolecular Sciences, with access to the Department of Biological Sciences, Physics and Statistics in the Faculty of Science.
Mass spectrometry equipment and resources
Applied Biosystems 4800Plus Proteomics Analyser: automated MALDI-TOF/TOF
Used for MALDI-TOF (PMF) and MALDI-TOF/TOF (PMF + MS/MS) protein identification
Waters Q-TOF Ultima API – LC ESI MS/MS
Coupled with Waters CapLC system and used for ESI analysis of intact protein masses and elemental composition analysis of organic compounds
Applied Biosystems QSTAR Elite – nanoLC ESI MS/MS
Applied Biosystems QSTAR XL- nano-LC ESI MS/MS
Coupled with Eksigent 1D nanoLC and Agilent nanoLC systems and used for 1D nanoLC ESI MS/MS and 2D nanoLC ESI MS/MS for protein identifications and biomarker discovery using iTRAQ technique.
Applied Biosystems 5500 QTRAP – nanoLC and CapLC ESI MS/MS System
Coupled with Waters Acquity 2D nano UPLC and used for targeted protein quantitative analysis.
Applied Biosystems 4000 QTRAP – nanoLC ESI MS/MS System
Coupled with an Eksigent nanoLC-2D System and used for MRM biomarker screens and protein quantitation
Bruker Microflex – MALDI-TOF
Used mainly for protein intact mass determination
Thermo LTQ – nanoLC ESI MS/MS
Coupled with Eksigent nanoLC system and used for nanoLC ESI MS/MS protein identification and label-free protein quantitation
Capillary LC systems
A number of capillary LC systems from Waters and Agilent are available for offline sample clean-up and fractionation
Other facilities and analytical laboratories
The Australian Proteome Analysis Facility (APAF) proteomics laboratories are located at the University's Department of Chemistry and Biomolecular Sciences (CBMS) and the Faculty of Science. Particularly within APAF, the University has much of the cutting-edge technology needed for the planned proteomics and glycomics analyses, including many new-generationl mass spectrometers. The APAF benefits from a $20m federal investment in the National Collaborative Research Infrastructure Structure. The University's contribution to this investment ensures that our members can claim reasonable costs.
Membership subscription to Macquarie University Centre for Analytical Biotechnology (MUCAB): basic biomolecular separations and analysis.
National Collaborative Research Infrastructure Scheme (NCRIS) fermentation facility in the Faculty of Science: DNA sequencing and microscopy.
Membership of the Ramaciotti Gene Analysis Research Centre gives access to high-throughput second-generation sequencing, Affymetrix and Agilent microarrays and other genomic analyses.
A Biolog Omnilog Phenotype Microarray system in the Paulsen laboratory offers simultaneous analysis of 2000 cellular phenotypes.

Photos: Naveid Ali - Mass spectrometry equipment available for use.
Bottom: