Professor Johanna Westbrook awarded Australian ICT Professional of the Year | News | AIHI - Australian Institute of Health Innovation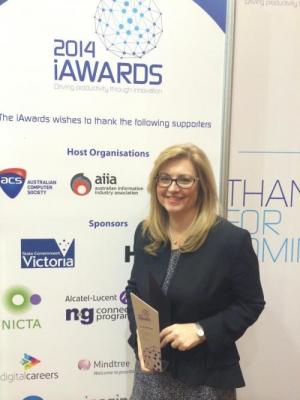 Professor Johanna Westbrook, Director of the Centre for Health Systems and Safety Research, was awarded Australian ICT Professional of the Year at the iAwards National Awards event held at the Melbourne Convention and Exhibition Centre on Friday, 29th August, 2014, attended by over 1,000 ICT professionals from all industry sectors. Johanna attended this event as the state representative, having received the NSW ICT Professional of the Year award earlier this year.
Hosted by the Australian Computer Society, the Australian Information Industry Association and the Pearcey Foundation, the iAwards are regarded as the premier technology awards in Australia, delivering the most comprehensive awards program which recognises the achievements and innovation made in ICT across all facets of the economy. The iAwards honours both companies at the cutting edge of technology innovation as well as leading professionals across the ICT industry. Most importantly, the iAwards recognises the achievements of home-grown Australian innovators.
The key goal of the iAwards is to discover, recognise and reward the ICT innovations that have the potential to, or are already having a positive impact on the community – at home, in the office and on a global scale. The iAwards also recognises the achievements made and value added by ICT professionals, CIOs and innovators.
The iAwards are judged by the industry, for industry and provide achievements with public recognition that extends across the ICT sector to government, community and beyond.
The ICT Professional of the Year is awarded in recognition of outstanding innovation, commitment and achievement in the recipient's field and is judged on four criteria: Excellence; Leadership; Advocacy and Professional Skills.
The ICT industry is made up of tens of thousands of professionals covering a myriad of disciplines from the technical to the academic, all of whom are integral to its ongoing viability and sustainability in an increasingly competitive environment.