Our research
Over two and a half million Australian children are affected by a neurological condition, either acquired (eg traumatic brain injury) or developmental (eg autism) or some other medical or mental health condition. Most of these children experience some form of cognitive, sensory, language and/or motor impairment. Many are also affected by mental health and behavioural issues. For children and their families, this can drastically reduce their participation in daily educational and recreational activities and greatly impact upon their quality of life.
Our vision
The Centre for Research in Atypical Neurodevelopment (CAN) provides a focus for integrative research on children with a wide range of conditions. It brings together researchers and clinicians with expertise in specific diagnostic conditions and in particular domains of cognition, sensation, linguistics and physical and emotional health.
Our mission
Organise workshops for MQ researchers and MQ based clinicians to share our expertise.
Identify further avenues for research collaboration.
Provide opportunities for co-supervision of Higher Degree Research (HDR) students by group members with complementary areas of clinical and research expertise.
Facilitate the sharing of expertise and access to equipment, allowing MQ researchers from across the Faculty to take full advantage of state of the art facilities such as paediatric brain imaging (eg MRI, MEG), eye-tracking, EEG, TMS and motion capture.
Foster links between academic research and clinical practice, including the reading, speech and language, and hearing clinics, as well as the Centre for Emotional Health – all now hosted by the Australian Hearing Hub.
Organise a public workshop aimed at clinicians and educators from outside the University.
Participate in our research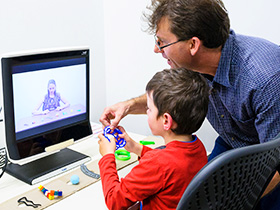 Our researchers are looking for children with a wide range of conditions to participate in research that could help children, their families and ultimately others with their condition.
Contact us
Call us
Phone: +61 2 9850 6869 (Jon Brock)
Phone: +61 2 9850 6768 (Melanie Porter)
Email us
Visit us
Level 3
Australian Hearing Hub
16 University Avenue
Macquarie University NSW 2109