Our projects
The Centre builds on and expands a number of existing multi-disciplinary collaborations. Examples of our current research projects include:
collaborating on MEG studies of auditory brain function in Williams syndrome
investigating mental health in children with reading difficulties
investigating cognitive, academic and social abilities in children with hearing impairment
investigating cognitive and social abilities in children with social anxiety disorder
the cognitive predictors of 'cool kids' treatment outcome in children with co-morbid autism and anxiety.
Participate in our research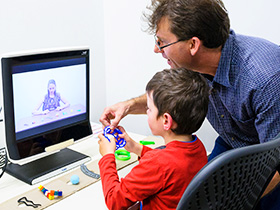 Our researchers are looking for children with a wide range of conditions to participate in research that could help children, their families and ultimately others with their condition.
Contact us
Call us
Phone: +61 2 9850 6869 (Jon Brock)
Phone: +61 2 9850 6768 (Melanie Porter)
Email us
Visit us
Level 3
Australian Hearing Hub
16 University Avenue
Macquarie University NSW 2109